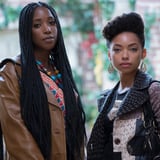 Image Source: Everett Collection
Although we're not even halfway through the year, Hollywood waits for no one - TV show cancellations and renewals now happen year round, so it's time to catch up on the latest news. Whether that means some of our favorite shows are disappearing soon or staying around for another shot, we all have to face the music eventually. A few shows have already been canceled, but other series have been luckier. See what's been renewed or canceled so far in 2018 below, and if you don't see your favorite show's fate, check here.
What's Been Renewed
ABC
Fresh Off the Boat: The groundbreaking comedy got a fifth season from ABC.
Station 19: People might not have gone as bonkers for this Grey's Anatomy spinoff as they do for the original medical drama, but it still nabbed a second season renewal.
Splitting Up Together: Jenna Fischer's divorce comedy is NOT splitting up with ABC - it'll be back for season two.
American Housewife: Prepare for more laughs when this show returns for a third season.
For the People: Shondaland's legal drama is returning for season two.
Dancing With the Stars: You'll be able to see your favorite celebrities strut their stuff in the ballroom when DWTS returns for season 27.
The Bachelor: A 23rd season of the reality show is officially on the way (don't tell Arie).
The Good Doctor: A second season of watching Freddie Highmore solve outrageous medical cases has been OKed by ABC.
Speechless: ABC picked up the drama for a 22-episode third season.
Grey's Anatomy: The popular medical drama will be back for a 15th season, making it ABC's longest-running primetime drama ever.
How to Get Away With Murder: The Viola Davis-fronted drama will return for a sixth season.
Black-ish: The sitcom, which stars Tracee Ellis Ross and Anthony Anderson, was picked up for a fifth season.
Agents of SHIELD: The series has been renewed for a 13-episode sixth season.
Freeform
CBS
Young Sheldon: The origin story of The Big Bang Theory's Sheldon Cooper is a giant hit with fans, making CBS's decision to bring it back for season two a no-brainer.
Celebrity Big Brother: The reality series scored a second season renewal.
Man With a Plan: Matt LeBlanc's family sitcom will continue with a third season.
Criminal Minds: The long-running thriller is coming back for season 14, which will mark its 300th episode.
S.W.A.T.: Brace yourself for seeing more of Shemar Moore in uniform, because the drama was renewed for season two.
Seal Team: The action drama starring David Boreanaz was also given a second season by CBS.
The Good Fight: CBS All Access renewed the legal drama for season three.
Mom: The series starring Anna Faris and Allison Janney has been renewed for a sixth season.
MacGyver: Mac will continue his unconventional problem solving in season three.
Hawaii Five-O: Despite a few recent scandals, the tropical police drama procedural has been renewed.
Blue Bloods: Tom Selleck's long-running series about a family of New York cops has been picked up for season nine.
Bull: CBS is bringing back this law drama for a third season in the courtroom.
NCIS: New Orleans: The crime-stopping will continue thanks to the show's season five renewal.
NCIS: Los Angeles: Chris O'Donnell and LL Cool J will return for season 10.
Madam Secretary: Téa Leoni's political drama has been granted a fifth season.
Survivor: Did you really think one of the most popular reality shows on TV would get the ax? Brace yourself for season 37.
The Amazing Race: A 31st season of watching multiple teams race around the globe is in the works.
60 Minutes: The news program has been given the green light.
48 Hours: True-crime-lovers rejoice, because new episodes of this show will be back on CBS before you know it.
The CW
The 100: The dystopian sci-fi drama has a sixth season on the way.
Crazy Ex-Girlfriend: Rachel Bloom and Aline Brosh McKenna's musical dramedy is going to return for a fourth and final season to wrap up Rebecca's story.
Jane the Virgin: Jane Gloriana Villanueva and her trusty narrator will come back to The CW for a fifth season (although star Gina Rodriguez has hinted it might be their last).
The Flash: Barry Allen and the rest of the gang will be back for season five.
Arrow: Are you ready for seven seasons of Oliver Queen? Whether you are or not, the network is bringing it back for yet another dive into the vigilante's life.
Supergirl: Here's something super: Kara is getting a fourth season!
Black Lightning: The CW's superhero show based on the DC Comics character has been renewed for season two.
Dynasty: Hopefully you're not sick of the drama quite yet, because the devious Carringtons are coming back for another season.
Supernatural: The Winchester brothers will return to The CW for a 14th season.
Riverdale: Grab the nearest chocolate shake and relax - Archie, Veronica, Betty, and Jughead have been given the green light for season three.
DC's Legends of Tomorrow: The ensemble superhero drama has been renewed for season four.
Netflix:
Dear White People: Justin Simien's satirical college drama is coming back for a third season.
The Rain: Netflix's dystopian sci-fi drama will continue to raise mysterious questions about the water plague in season two.
Santa Clarita Diet: It's official - Drew Barrymore will get to keep eating people in a third season.
Lost in Space: The sci-fi drama will return for season two!
On My Block: The coming-of-age comedy got picked up for season two!
Fuller House: Netflix has picked up the reboot for the fourth season.
Grace and Frankie: The comedy has been renewed for season five.
One Day at a Time: Season three of the beloved family comedy is officially in the works!
Queer Eye: The heartwarming reality show will return for a second season of tears, fashion, avocados, and redneck margaritas - can you belieeeve?!
Nailed It: Netflix's hilarious reality baking show not only has Nicole Byer as host but also has a second season on the way. Celebratory cupcakes all around!
Black Mirror: The sci-fi anthology series will continue to melt your brain with season five.
Alexa and Katie: The sweet sitcom about two best friends - one supporting the other who has cancer - got picked up for a second season.
Jessica Jones: The Marvel P.I. will be back for season three!
Lost in Space: The reboot of the classic CBS series from the 1960s will be back for season two.
Lucifer: After getting canceled by Fox, the Tom Ellis-starred drama will return on Netflix for a fourth season.
Fox
911: The Ryan Murphy procedural has nabbed a second season.
American Idol: You'll be able to sing along when the reality competition comes back for season two.
Bob's Burgers: The delightful animated comedy will return for season nine.
Family Guy: Seth MacFarlane's series is coming back for a 17th season in the Fall.
Lethal Weapon: The comedic cop procedural is coming back for season three without star Clayne Crawford.
The Four: The music competition series has been picked up for a second season.
So You Think You Can Dance: Mary Murphy, Nigel Lythgoe, and Vanessa Hudgens will host season 15 of the dance competition this Summer.
Empire: With four seasons under its belt, the drama is still going strong. Onward to season five!
Star: Even the Empire spinoff is still running hot; we're getting a third season!
The Simpsons: Last year, the animated comedy was given a two-season renewal. Next season, which is the 30th(!), is the second year of this renewal.
The Orville: The live-action comedy by Seth MacFarlane has been given a second season.
The Gifted: The drama based on the X-Men comics has earned a second season.
The Resident: This new medical drama is on for season two.
Gotham: The series will be back for a fifth and final season.
Showtime
The Chi: Lena Waithe's freshman drama has been given a second season.
Starz
Outlander: The Ron Moore drama was renewed for a fifth and sixth season.
USA Network
Disney Channel:
NBC:
Superstore: The comedy starring America Ferrera has been renewed for a fourth season.
America's Got Talent: The series has been renewed for season 13.
Will & Grace: NBC's rebooted comedy was renewed yet again, this time for a third season (11th overall)!
Midnight, Texas: The supernatural drama will have more time to cast a spell on you when it comes back for season two.
Blindspot: After a successful third season, the "puzzle drama" will return once more.
Law & Order: SVU: This NBC staple is now tied for TV's longest-running primetime live-action series.
Chicago Fire: A seventh-season renewal has been issued to the flagship Chicago series.
Chicago Med: This spin-off series will be back for a fourth season.
Chicago PD: This iteration of the multiple Chicago series will return for season six.
The Good Place: Kristen Bell's life-after-death comedy has received a 13-episode third season.
This Is Us: This beloved, heart-wrenching newbie will be back for season three!
Good Girls: It's no secret that we loved this new series, which is why we're thrilled to see a second season.
A.P. Bio: The Lorne Michaels and Seth Meyers comedy will be back for season two.
HBO:
Silicon Valley: The comedy about a fictional tech company will return for season six.
Barry: Bill Hader's black comedy about an assassin-turned-actor was granted a second season by HBO.
Crashing: The show will be back for season three.
High Maintenance: The series has been granted a third season.
Amazon
Syfy:
Pop:
Schitt's Creek: Haven't gotten into this show yet? Well, you better start, because it just got renewed for season five!
BBC America:
Adult Swim
TV Land
AMC
What's Been Canceled
Image Source: Everett Collection
Fox
Ghosted: Fox canceled Adam Scott and Craig Robinson's supernatural comedy after one season.
Brooklyn Nine-Nine: Though it's beloved by critics and fans, this cop comedy will not return for a sixth season (fortunately NBC picked it up!).
The Last Man on Earth: Will Forte's post-apocalyptic comedy has been canceled after four seasons.
The Mick: Another one that was a favorite among many! The Mick will not be back for season three.
New Girl: Zooey Deschanel's quirky comedy is coming to an end after seven seasons.
Showtime
ABC
NBC
The Night Shift: Unfortunately, the final two seasons of this one already aired last Summer, and it won't be back for more.
Shades of Blue: The cop drama starring Jennifer Lopez will end after its third season.
Taken: The TV version of the popular Liam Neeson film will not return for a third season.
Great News: The Tina Fey-produced workplace comedy was canceled after two seasons.
Rise: The high school drama will not be returning for a second season.
Amazon
One Mississippi: This Amazon original series created by Tig Notaro (and inspired by her life) lasted two seasons.
I Love Dick: The adaptation of Chris Kraus's novel of the same name aired for one season.
Jean-Claude Van Johnson: Jean-Claude Van Damme's comedic spy series is no more after a six-episode run.
Transparent: The show's fifth season will be its last.
Freeform
The CW
Life Sentence: Lucy Hale's comedy has been canceled after just one season.
Hulu
Netflix
Lady Dynamite: Comedian Maria Bamford's comedy has been canceled after only two seasons.
Disjointed: Our love of Kathy Bates couldn't save Chuck Lorre's weed comedy from getting the ax after season one.
Everything Sucks!: In news that, well, sucks, Netflix has decided not to move forward with this quirky '90s comedy that aired for just one season.
Syfy
From POPSUGAR Celebrity https://ift.tt/2BNHbXI