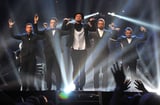 Jennifer Lopez will be the first Latin artist to win MTV's Video Vanguard Award at the VMAs this month, and it got us thinking about all the other musicians to receive the honor over the years. The Vanguard was created in 1984 and renamed after the iconic Michael Jackson in 1991; it recognizes artists' overall achievements in music and film, and there were actually two inaugural winners: David Bowie and The Beatles.
While there has been plenty of debate over who probably should have a Vanguard Award but doesn't - *cough* Missy "Misdemeanor" Elliott *cough* - it doesn't get awarded every year and has sometimes been given as a lifetime achievement award instead. My favorite thing about the Vanguard Award is seeing how the artists celebrate and accept them. Beyoncé damn near performed her entire self-titled album; Kanye West damn near ran for US president; Justin Timberlake damn near resurrected *NSYNC from the dead; and Lady Gaga had me damn near throwing wine at the TV when she presented Britney Spears with an award while dressed as her male alter ego, Jo Calderone. I'll never understand why that happened.
Keep reading to see all the artists who have taken home the coveted Moon Person over the years, then check out even more unforgettable moments from the MTV VMAs.
From POPSUGAR Celebrity https://ift.tt/2AXQpW5