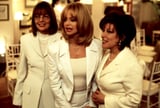 When it was released over two decades ago, The First Wives Club taught viewers many valuable lessons: there's strength in numbers, window-cleaning is best left to the professionals, and - say it with me now - you don't own me. To no surprise, the iconic 1996 movie, which starred Bette Midler, Goldie Hawn, and Diane Keaton, is being turned into a modern-day series for Paramount Network.
With filming beginning this Fall, the project still appears to be in the early stages, however, the basic premise was just recently revealed, along with two of the leading ladies. Also set in New York City, First Wives Club will follow three women of different careers and backgrounds - Ari, Bree, and Hazel - dealing with the aftermath of their respective splits. Jill Scott will be portraying Hazel, Michelle Buteau will portray Bree, and the third lead has yet to be announced.
"Both artists bring unique talents to this project and as a collective, between Jill's beautiful music and dynamic on-screen work and Michelle's incredible comedic timing, their joining First Wives Club makes for the start of a very special cast," the show's executive producer Tracy Oliver told Deadline. "I am very excited to see their characters come to life."
Ahead, learn all about the latest nostalgic reboot coming down the production pipeline.
From POPSUGAR Celebrity https://ift.tt/2KlFK6Y