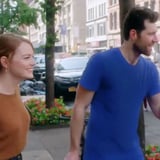 Come for Emma Stone, stay for me explaining to a woman randomly eating a platter of shrimp cocktail in the middle of the street what a boomerang is pic.twitter.com/8emiYDsfGZ

- billy eichner (@billyeichner) September 13, 2018
Billy on the Street, we've missed you! American Horror Story actor and comedian Billy Eichner is back with his Funny or Die show, and it's more hilarious (and star-studded) than ever. He hit the crowded sidewalks of New York with Maniac's Emma Stone to ask people when they think the Oscar winner will join Instagram - it's an important topic, OK?! - as well as utter gems like, "Miss, our democracy is crumbling, would you like to say hi to Emma Stone?" Watch it above!
From POPSUGAR Celebrity https://ift.tt/2p4tf7N