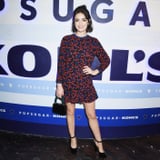 Not only is Lucy Hale a beloved actress (we miss you, Pretty Little Liars!) and an incredible singer, but if you've stopped by her Instagram account for even a second, you've probably also fallen in love with her style and always-incredible beauty looks. So with the launch of the POPSUGAR at Kohl's Collection, Lucy stopped by our New York City pop-up, where she revealed her favorite dress from the collection, what pieces her Pretty Little Liars character Aria would've rocked, and much more.
"I love the cherry print - with this [dress], I could throw on a jean jacket, or a leather jacket, or you could even put on little moto boots if you wanted to dress it up a little bit," Lucy said. As for queen-of-making-bold-fashion-choices Aria Montgomery? She thinks she would've gone straight for the patterns: "She loved her stripes, and she loved her bold patterns. So I feel like she would go for the stripes, but she would do something weird like put a striped cardigan over cherry print. She was all about mixing, and matching, and making her own rules."
Keep reading as Lucy reveals everything from her favorite junk food to her most prized possession!
From POPSUGAR Celebrity https://ift.tt/2CYOXnt