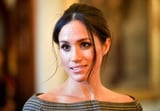 Before finding love with Prince Harry, Meghan Markle had no shortage of celebrity friends, but it seems her inner circle has gotten smaller since becoming a royal. "Meghan has lost touch with some of her close friends from before the wedding, which has been tough," People reports. "She's finding it hard to know who to trust."
Meghan has also been dealing with her fair share of family drama. Not only does her father, former lighting director Thomas Markle, continue to talk to the press about his fractured relationship with his daughter, but her half-sister Samantha keeps lashing out at Meghan in the media. "It was very wearing on her. It's her private life," a source added.
Even so, we're glad Meghan still has a few good friends she can count on. In July, she was spotted cheering on pal Serena Williams at Wimbledon, and Priyanka Chopra made a special visit to Meghan and Harry's country home in Oxfordshire, Engalnd, with fiancé Nick Jonas. Just last month, Meghan also took a secret trip to Toronto to hang out with BFF Jessica Mulroney.
Meghan and Harry will be embarking on their first royal tour as a married couple next month. The pair will be visiting Australia, Fiji, New Zealand, and the Kingdom of Tonga. "The tour is going to be her chance to shine," author Ingrid Seward told the outlet. "She knows she'll be center stage, and everyone is going to want to meet her. It is her biggest part yet. I'm absolutely confident she will be very, very good."
From POPSUGAR Celebrity https://ift.tt/2p1SDLj