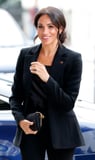 Meghan Markle's life was forever changed when she became a royal, but she still tries to live a normal life whenever she can. "She spends most of her weekends in the Cotswolds (about two hours away from Kensington Palace) with Prince Harry," People reports. "When she does venture out to Pilates or to get her hair done, she normally goes incognito under a baseball cap."
In fact, Meghan also reportedly does her own grocery shopping, just like her husband. "The only other place she has visited regularly is Whole Foods, which is little more than five minutes away from Kensington Palace," a source told the publication. "That way she can quickly sneak in and out without anyone noticing it's her."
Just last month, it was reported that Meghan flew commercial when she made a secret trip to Toronto to visit her BFF Jessica Mulroney. Even though Meghan is the Duchess of Sussex now, we're glad to hear she's still the same old Meg.
From POPSUGAR Celebrity https://ift.tt/2Ontg1y