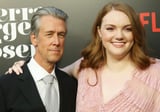 The cast of Sierra Burgess Is a Loser is filled to the brim with familiar faces. Its star, Shannon Purser, is better known as Stranger Things's beloved, beleaguered Barb. The actress playing her mother, Lea Thompson, is a Hollywood legend in her own right. And, of course, the leading man is none other than the internet's Summer obsession, Noah Centineo. These actors have been in some of the most talked-about projects of the past few decades. But it turns out they're not the only ones: Alan Ruck, who plays Sierra's dad, has an iconic role under his belt too.
In the 1980s, Ruck broke onto the scene alongside members of the "Brat Pack." He costarred with Sean Penn and Ally Sheedy in 1983's Bad Boys and with Andrew McCarthy and John Cusack in Class. Although his roles in these movies were supporting ones, they gave him steady work and grouped him with actors that would come to define a generation.
Ruck himself was about to get the role that would catapult him into the pop culture lexicon forever. In 1986, he starred alongside Matthew Broderick in Ferris Bueller's Day Off, the iconic teen comedy from '80s maestro John Hughes. Ruck played Cameron Frye, the hypochondriac, tightly wound best friend to Broderick's Ferris Bueller. The movie has endured for 30 years as one of the most famous teen comedies of all time.
After Ferris Bueller, Ruck continued to play supporting roles in midtier successful movies. He joined the Star Trek franchise in 1994's Star Trek Generations as Captain John Harriman (and reprised that role in an unofficial Star Trek "fan film" in 2008). By the 1990s, Ruck was shifting into television. Although his first major role, in ABC's Going Places, only lasted one season, his next one was a much bigger success. The sitcom Spin City lasted six seasons, depicting a fictionalized version of the New York City's mayor's office, and Ruck stayed all six seasons as Chief of Staff Stuart Bondek.
Ruck's later career consisted of more supporting and guest roles, although he did step into a leading role on Broadway as Leo Bloom in The Producers - the role originated, as it so happened, by his Ferris Bueller BFF Broderick. Fans of the short-lived but beloved ABC Family series Bunheads may recognize him too: he was the sweet if sad-sack suitor to Sutton Foster's Michelle. His most recent role is as a protective father in Fox's update of The Exorcist. While Ruck's characters usually aren't the leads, they tend to be the characters who draw your laughs and your sympathy nonetheless.
Here's a look at his most memorable roles!
From POPSUGAR Celebrity https://ift.tt/2x1plRk