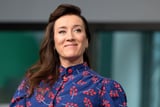 The new season of Outlander is almost upon us, and that means more sneak peeks and more info trickling out about what we can expect when the show returns on Sunday, Nov. 4. Among the new characters who will debut in the fourth season is Jocasta Cameron, Jamie's aunt who lives in America. If you've seen the promos and recognize the actress playing Jocasta, there's a pretty good reason: Irish actress Maria Doyle Kennedy has had some absolutely indelible roles over the course of her lengthy career.
Doyle Kennedy didn't start her career as an actress - she was a musician first. She joined her first band while in college (studying political science and business, not acting or music) in the late 1980s and achieved international success both as part of The Black Velvet Band and as a solo artist. During her time with the band, she met her husband, Kieran Kennedy.
In 1991, Doyle Kennedy made her acting debut in the musical dramedy The Commitments. The movie has only been a cult hit, but it did result in one of Doyle Kennedy's quirkier achievements: being featured on an Irish postage stamp! She also joined the 1999 miniseries adaptation of Oliver Twist and was featured in the British version of the TV show Queer as Folk.
It was 2006's The Tudors that brought Doyle Kennedy mainstream critical acclaim and audience adoration. For two seasons, she portrayed Katherine of Aragon, the dignified, devout first wife of Henry VIII. The Showtime drama received international attention, as did Doyle Kennedy's performance. A few years later, she returned to British period drama on Downton Abbey. In a complete about-face from her previous roles, she played a full-fledged villain as Vera Bates, the cruel wife of valet Mr. Bates. Doyle Kennedy worked with Downton creator Julian Fellowes again in 2012's miniseries Titanic, a fictionalized tale of the famous ship filmed to coincide with the tragedy's 100-year anniversary.
Doyle Kennedy made a foray into sci-fi with a pair of films: 2013's Byzantium and 2015's cult hit Jupiter Ascending. She stuck with genre work for her next role but returned to the small screen. In 2013, she began playing Siobhan Sadler in Orphan Black, a role that she played for the entire five-season run of the series. Doyle Kennedy has made a career of playing quasi-maternal figures, but they've always been complex, interesting characters, too, and her upcoming role on Outlander looks like it will fit right in with her previous work - which you can check out in our gallery!
From POPSUGAR Celebrity https://ift.tt/2pjH0Q4