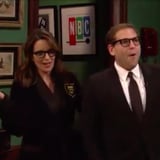 Here it is… The Five-Timers Club. #SNL pic.twitter.com/a2xb8hsqac

- Saturday Night Live - SNL (@nbcsnl) November 4, 2018
It was his fifth time hosting Saturday Night Live and Jonah Hill was surrounded by greatness! Shortly after the curtains opened, Hill was joined by SNL alum Tina Fey, where they discussed the highly regarded "Five-Timers Club" for the show's hosts, which includes stars like Tom Hanks, Steve Martin, Justin Timberlake, and more.
The two go backstage where they visit the "club," and they're greeted by Drew Barrymore and Candice Bergen, who so kindly addressed Hill as Seth Rogen. The hilarity ensues when they roll through Hill's hosting highlights, many of which were bathroom scenes, and then, Bergen ordered a "Pete Davidson" cocktail. "It's got a lot going on, but it gets the job done," she added. Watch the hilarious clip above, and congratulations to Hill on joining the Five-Timers Club.
Welcome to the Five-Timers Club, @JonahHill! #SNL pic.twitter.com/lU9xibdSHQ

- Saturday Night Live - SNL (@nbcsnl) November 4, 2018
From POPSUGAR Celebrity https://ift.tt/2QnGZqs