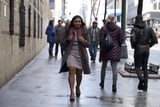 Since we can all collectively agree that 2018 has been the worst, let me be the first to tell you that 2019 has plenty to look forward. Well, in Hollywood, that is.
Thanks to the combined powers of Mindy Kaling and Emma Thompson - we are not worthy - a new comedy about a late night show (aptly titled Late Night) is headed our way. The film, written by Kaling, follows a legendary late night talk show host (Thompson) who decides to hire her show's first female staff writer (Kaling) to appease concerns raised about diversity. Of course, once she comes on board, the two women find themselves bonding over more than either of them expected, resulting in hilarious on and offscreen moments.
Although Late Night isn't due to hit theaters for quite some time, the first few stills from the comedy are now available. Check them out ahead, and then read up on everything you need to know about Kaling's TV adaptation of Four Weddings and a Funeral.
From POPSUGAR Celebrity https://ift.tt/2AAqYGZ