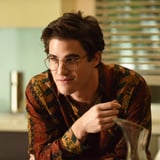 The Assassination of Gianni Versace, the second season of American Crime Story, has achieved that elusive combination of popularity with viewers and acclaim by critics and award shows. At both the Emmys and the Golden Globes, the series took home hardware honoring its achievements as a limited series and for costar Darren Criss's creepy, all-out performance as murderer Andrew Cunanan. Like its predecessor, American Crime Story: The People v. O.J. Simpson, we already know that The Assassination of Gianni Versace will eventually start streaming on Netflix. The only question is: when?
Following the show's wins at Sunday night's Golden Globes, Netflix reconfirmed that The Assassination of Gianni Versace will hit Netflix on Jan. 17!
"Congrats to the incredible cast and crew behind American Crime Story: The Assassination of Gianni Versace - if you missed it on FX, you can catch it on Netflix staring January 17!" the official Netflix account tweeted soon after the series won two awards for best television limited series and best actor in a miniseries or TV movie.
This upcoming release is just one part of a long-term deal between FX and Netflix with regards to American Crime Story as a whole. Back in 2016, Variety reported that Netflix had made a deal with FX and Ryan Murphy that gives Netflix global streaming rights to all the seasons of American Crime Story.
Related: 73 Incredible New Movies and TV Shows Coming to Netflix in January
"Given the popularity of the first season of American Crime Story, we are thrilled to offer this acclaimed drama series to our members," Sean Carey, Netflix's vice president of global television, said at the time. The deal extends beyond just that first season and gives Netflix the rights to all subsequent seasons as well, even the ones that have yet to be made.
This release date for The Assassination of Gianni Versace falls right in line with how Netflix handled the release of The People v. O.J. Simpson. The ten episodes of the first season aired from February to April 2016, but were not released on Netflix until February 2017. The Assassination of Gianni Versace will actually be released on Netflix exactly one year after its television release: the first episode aired on Jan. 17, 2018! That year-long gap is also similar to how Netflix handles the streaming releases of Murphy and FX's other big-name anthology series, American Horror Story: each season of the horror series tends to hit Netflix about a year after its original airing on television.
American Crime Story is already prepping for its upcoming third season - and we already know the theme of the new series! Murphy revealed early in 2018 that the third season will focus on the aftermath of Hurricane Katrina.
"The third season is set in Memorial Hospital [in New Orleans] and really looks at, sort of, the medical conditions in our country and global warming, and is this going to happen again, which it is. And if it does, who has the right to decide who lives or dies in our country," Murphy explained at the 2018 TCA Winter press tour. No release date has been set for the third season, but we'll soon be able to rewatch both of the previous seasons on Netflix while we wait!
From POPSUGAR Celebrity http://bit.ly/2Fla9EP