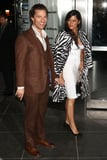 The Museum of Modern Art hosted a special screening of Matthew McConaughey and Anne Hathaway's new film, Serenity, on Wednesday, but we'd argue that the real show was Matthew McConaughey and Camila Alves's appearance. The husband-wife duo, who has been together for over six years, attended the screening, hand in hand, looking like a stylish power couple. While Matthew donned an all-brown suit (something not a whole lot of people can pull off, TBH), Camila modeled a zebra print coat over a white, low-cut dress.
Matthew and Camila have attributed their successful marriage to their utmost respect for each other, humor, and honesty. They also have a deep love for family, which they share with their three children: sons Levi, 10, and Livingston, 6, and daughter Vida, 9. But we'd also like to think that their bond is so strong because they both have the same amount of confidence it takes to wear a brown suit and zebra coat to a Hollywood event. We stan.
View more pictures of Matthew and Camila at the Serenity screening ahead!
From POPSUGAR Celebrity http://bit.ly/2S9oN7O