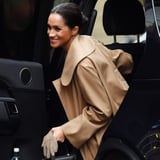 It's official: there's about to be a new addition to the royal family! The Duke and Duchess of Sussex are expecting their first child in the Spring, and everyone has royal baby fever all over again. For the next several months, tons of speculation will be swirling about everything, from the baby's potential name to its titles and even its citizenship status. While some of these have already been answered, one of the big questions yet to be revealed is where Meghan will give birth to her and Prince Harry's child.
For security reasons, obviously, the location of the royal birth is not typically announced in advance. Though the upcoming baby's first cousins - Prince George, Princess Charlotte, and Prince Louis - were born at St. Mary's Hospital in London, it seems like Meghan and Harry might be taking a different route for the birth of their newborn.
According to Us Weekly, the couple is considering Frimley Park Hospital in Surrey, England, for Meghan's delivery. "It will be much less chaos and more of a private event than if she gives birth in London [at high-profile St. Mary's Hospital] like Kate did," a source told the publication. It's also pretty convenient seeing that the hospital is 20 minutes away from Harry and Meghan's new home in Frogmore Cottage.
From POPSUGAR Celebrity http://bit.ly/2D3U7MZ