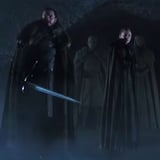 We know that, for fans, the premiere date for Game of Thrones's eighth and final season, April 14, feels like an eternity away. With all the clues being dropped by the cast about what we can expect in the last season, it's hard not to let that impatience get to you. Luckily HBO has finally given us a little something more than the sneak peeks we got in the network's marketing videos for their 2019 lineup, which included a chilly meeting between Sansa and Daenerys Targaryen in Winterfell. Now there's a full-on teaser!
In it, Sansa, Arya, and Jon march through the crypts of Winterfell, passing statues of their late relatives, like Ned and Catelyn Stark. When they reach a far wall, though, the trio stumbles upon something incredibly foreboding: statues of the three of them, hinting that their own deaths might not be that far off. Then a threatening wave of ice and frost creeps through the crypts, as Jon and Arya draw their swords.
Once you finish making a few theories based off of the most recent clip - as well as the clip HBO previously shared of Jon being embraced by Sansa - you should also watch the teaser dropped on Dec. 6, which is much more about reading between the lines. In it, below, we see the map of the Seven Kingdoms on Daenerys's Painted Table at Dragonstone. Frost slowly consumes Westeros as fire rises from the south, until the two clash in what we have no doubt is a fearsome battle.
Though the new clips are short and cryptic, they do give fans more than enough to speculate on the who, what, where, and whys happening in the next season, and that will definitely get us through as we wait for more info. Check out the video above and after your fourth rewatch (at least), read these theories on how the eighth installment might shape up.
Tease 2:
Tease 1:
From POPSUGAR Celebrity http://bit.ly/2QtcRJ8