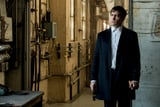 By the time I finished watching Velvet Buzzsaw on Netflix, I didn't know what I should do next. Frantically burn every piece of art I have hanging on the walls of my apartment? Invest in a flip phone? Google the origins of the name "Morf"? In the end, like any good Millennial, I decided to turn to Twitter to see if I was the only one whose mind was unraveling after watching the unhinged Dan Gilroy flick. (I wasn't.)
The horror satire - which is a bit of a slog, in all honesty, but contains some spectacularly grim, Final Destination-worthy death scenes - is a savage critique of the art world, and stars A-listers like Jake Gyllenhaal (as the aforementioned Morf, FYI), Rene Russo, Toni Collette, and John Malkovich as various snooty members of the contemporary art scene in Los Angeles. When they stumble upon a series of fascinating, but haunted, paintings and decide to profit off of the works of art, all hell breaks loose.
From severed arms to naked shots of Gyllenhaal to an extremely creepy robot, people on Twitter haven't been shy about letting the world know how they feel about the movie, which is a good palate cleanser if you're still trying to forget about what poor Coco (Natalia Dyer) has to go through. Check out some perfect observations about the film ahead, but be warned: some spoilers for Velvet Buzzsaw to follow!
Related: 14 Horror Movies Everyone Will Be Talking About in 2019
From POPSUGAR Celebrity http://bit.ly/2S8ON48