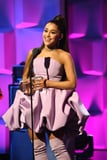 It looks like 2019 is going to be even bigger for Ariana Grande. The 25-year-old won her very first Grammy Award on Sunday for her fourth studio album Sweetener, and to quote her first response on Twitter, "F*ck."
The Recording Academy announced the singer's best pop vocal album win via their Twitter page hours before the 2019 Grammy Awards began on Sunday. Grande was originally meant to attend and perform at the Grammys but, following a dispute with the show's producers over which songs she would perform, pulled out and announced she wouldn't even be attending.
Grande addressed the win and her absence in her followup tweet, saying "I know I'm not there tonight (trust, I tried and still truly wished it had worked out tbh) and I know I said I try not to put too much weight into these things .... but f*ck ....... this is wild and beautiful. Thank you so much."
She went on to thank Pharrell Williams, her manager, producers, and "every human being at @republicrecords." Of course she couldn't leave out her dedicated band of "Arianators," thanking them for "being my main source of joy and inspiration always." And since Twitter always knows the best way to celebrate any win, Grande also retweeted a photo of her as a child, edited to show her carrying a Grammy award, with a simple "Thank U."
Related: Lady Gaga, Ariana Grande, and Everyone Else Who's Already Won a Grammy This Year
From POPSUGAR Celebrity http://bit.ly/2I2NxuI