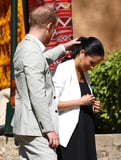 Prince Harry never fails to surprise us with his adorable PDA with Meghan and general supportive nature. While Meghan was in NYC for her baby shower, Harry was getting clued in on some last-minute parenting tips, and he's always sneaking in some PDA with Meghan and always has her back.
He reinforced his caring nature during his tour of Morocco with Meghan Markle. They had plenty of cute PDA moments, but perhaps the best of all was during the couple's trip to Andalusian Gardens in Rabat where they spoke to local merchants. Meghan took a particular interest in a pendant and when she was spotted trying it on, Harry was as attentive as ever and made sure to keep her ponytail out of the way so it didn't get caught in the necklace chain. It might be a tiny moment, but as ever, it was a gesture of true romance.
Ahead, get a look at the sweet moment and photos from their visit to Andalusian Gardens.
From POPSUGAR Celebrity https://ift.tt/2IC4Ra9