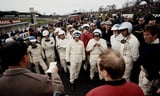 Never underestimate the power of pure spite. That's the underlying motivation behind the true story told in Ford v. Ferrari, a sports drama set to hit movie theaters in June. Starring Matt Damon and Christian Bale, the film tells the story of the intense racing rivalry between all-American car maker Ford and the Italian brand Ferrari, which came to a head at one very long race in France in 1966.
Ferrari's cars had long been dominant at the race, but that wasn't the only reason that Ford wanted to defeat them. After a business deal fell through between the two, the rivalry got very personal, very fast - and, ironically enough, that vindictive determination led to a breakthrough in race cars of the era. If all this sounds too dramatic to be true, read on to see exactly what went down between the automotive giants and how it all ended in real life.
Ford v. Ferrari is set for a June 28 release date.
From POPSUGAR Celebrity http://bit.ly/2TgMmch