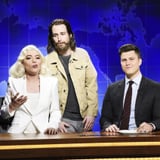 Melissa Villaseñor impersonates Lady Gaga and sings "Shallow" on tonight's episode of SNL! pic.twitter.com/UuIJ5jSUFh

- Lady Gaga Updates (@LGTourNews) February 10, 2019
If you're in the mood for a hilarious Lady Gaga impression, Saturday Night Live has got you covered. On the show's Feb. 9 episode, hosted by Halsey, cast member Melissa Villaseñor belted out her best "Shallow" for Michael Che and Colin Jost. Sure, Villaseñor was really there to give her pre-Grammys picks, but do you blame her for the A Star Is Born obsession? Seems like everyday more stars are coming out with their own covers of the song, so it's no wonder Villaseñor wanted to get in on the fun. Add in Kyle Mooney's Jackson Maine, and we're all off the deep end.
Watch the clips above and below to fully prepare yourself for tonight's Grammys, where "Shallow" is up for four awards.
Melissa Villaseñor impersonating Lady Gaga & singing "Shallow" tonight on SNL 😆 pic.twitter.com/3z7NbEeGHl

- LG Updates (@LadyGagaVegas) February 10, 2019
From POPSUGAR Celebrity http://bit.ly/2ULDg7M