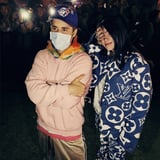 Billie Eilish is just like all of us, as in, she freaks the f*ck out when meeting celebrities. Despite the 17-year-old pop star's huge rise to fame and her impressive Coachella performance debut, she still gets starstruck! Over the weekend, Billie met Justin Bieber for the first time during Ariana Grande's headline performance, and it was so damn pure.
Billie, who is a longtime Belieber, recently appeared on The Ellen DeGeneres Show where she talked about her obsession with the Biebs and how she freaked out when he followed her on Instagram. But the joy of getting a follow from Justin doesn't even come close to the joy she felt when meeting him in real life.
Scooter Braun captured the interaction, and we have a feeling it'll go down as the best hug Billie's ever received. She's literally at a loss for words! Watch the adorable clip above and see more from their sweet hangout ahead.
From POPSUGAR Celebrity http://bit.ly/2IiSvTD