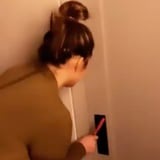 the boys locked us out. they won't let us watch #GoT because we talk too much @jenatkinhair @mrmikerosenthal pic.twitter.com/P7PZ05VGGj

- christine teigen (@chrissyteigen) April 15, 2019
Longtime Game of Thrones fans have been waiting very patiently (*cough* two years) for the show's final season, and season eight finally premiered on Sunday. This, of course, was a sacred TV-watching holiday for people around the world, including John Legend. During the premiere, Chrissy Teigen posted a couple videos on Twitter of herself breaking back into their media room with a pair of scissors after John locked her out "because we talk too much," tagging hairstylist Jen Atkin and photographer Mike Rosenthal. While I agree that Game of Thrones time is not a time for talking (Dracarys!) and I probably would have done the same if I were John, it's hard not to laugh at the look on his face when Chrissy giddily breaks back into the room. Clearly, she's the true khaleesi of the house!
- christine teigen (@chrissyteigen) April 15, 2019
From POPSUGAR Celebrity http://bit.ly/2UiKm34