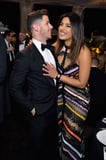 Given the fact that Priyanka Chopra and Nick Jonas tied the knot after less than a year of dating, you would think that it was love at first sight for them, but turns out, it wasn't - well, at least not for Priyanka. On Thursday, the 36-year-old actress had the honor of attending the Women in the World Summit in NYC, where she revealed her surprising first impression of her 26-year-old beau.
"I didn't think that this would be what it turned out to be, and that's maybe my fault. I judged a book by its cover," Priyanka explained. "But I think when I actually started dating Nick, he surprised me so much . . . I call him Old Man Jonas. That's my name for him, 'OMJ.' He's such an old soul, extremely smart, so good for me because he grounds me so much. I'm a wild child, I do whatever I want whenever I want and he always supports me."
In fact, one of the things that struck Priyanka the most happened during one of their first dates together when she said she needed to leave for a meeting, but hinted that she would cancel if Nick asked her to. "Finally he took me aside and he's like, 'Look, I'm not stupid. I know what you're trying to do, but I will never be the one who will tell you to cancel work because I know how hard you've worked to be where you are. So if you could've canceled it, you would've done it. I'll take our friends out for dinner, we'll wait for you, and you finish your meeting and come back,'" Priyanka said. "He gave me credit for what I had done. It was just mind-blowing for me."
Priyanka and Nick wed in a series of weddings this past December, and they already have babies on the brain. Lesson learned: don't judge a book by its cover.
From POPSUGAR Celebrity http://bit.ly/2Iv1ArB